Simple, Elegant Christmas Decorating
December 4, 2020
Every year, we take a MINUTE to enjoy the holiday season and decorate a few client's homes for Christmas. Here are our top tips when decorating your own home!
Christmas decorating can get a little haphazard, so our best advice is to think it through before starting.
What overall color scheme do you want to weave through? Do you have any collections you can group together? What items can you pull from your everyday decor that might match the look you are going for?
This client's home has a modern farmhouse type vibe with touches of glamour and elegance. We wanted to match that style and make Christmas BLEND in while still feeling super festive. We went with crisp whites, neutrals, burlaps, and deep rich greens. And, of course, a little glitter!
Our client already had a collection of Christmas houses she wanted to display, so we gathered them all up and created a winter village in her dining room!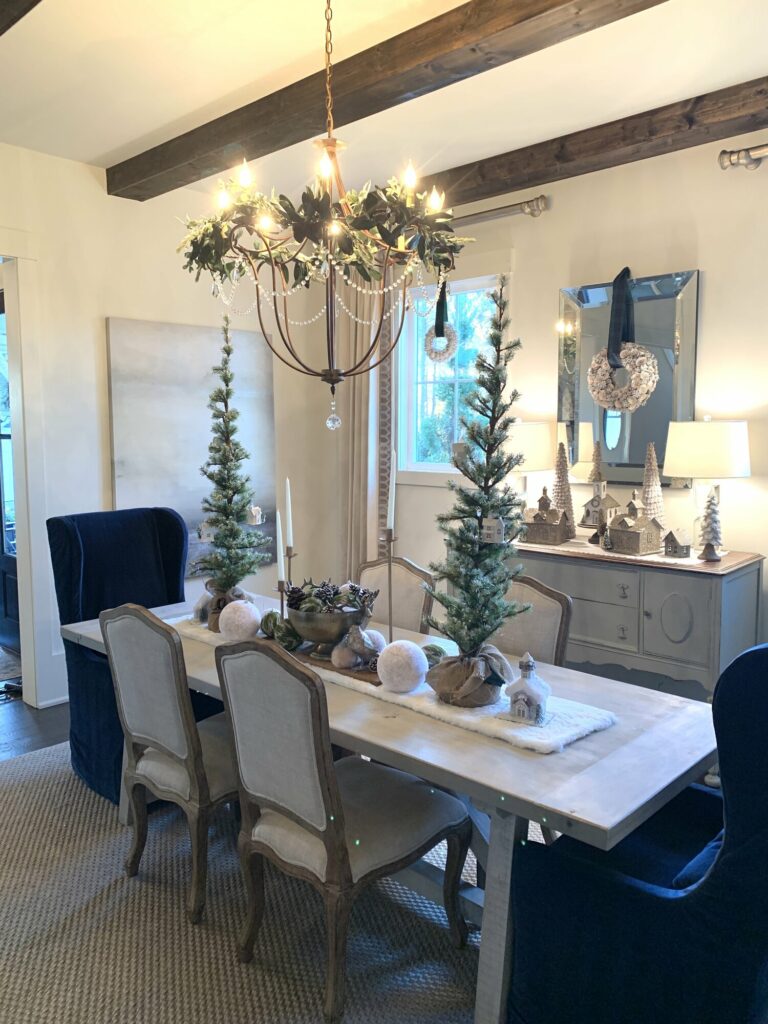 We mixed in all types of trees that fit our color scheme and overall look as a backdrop for the houses.  It gave the area a cohesive and cozy look! How ENCHANTING are these houses?!?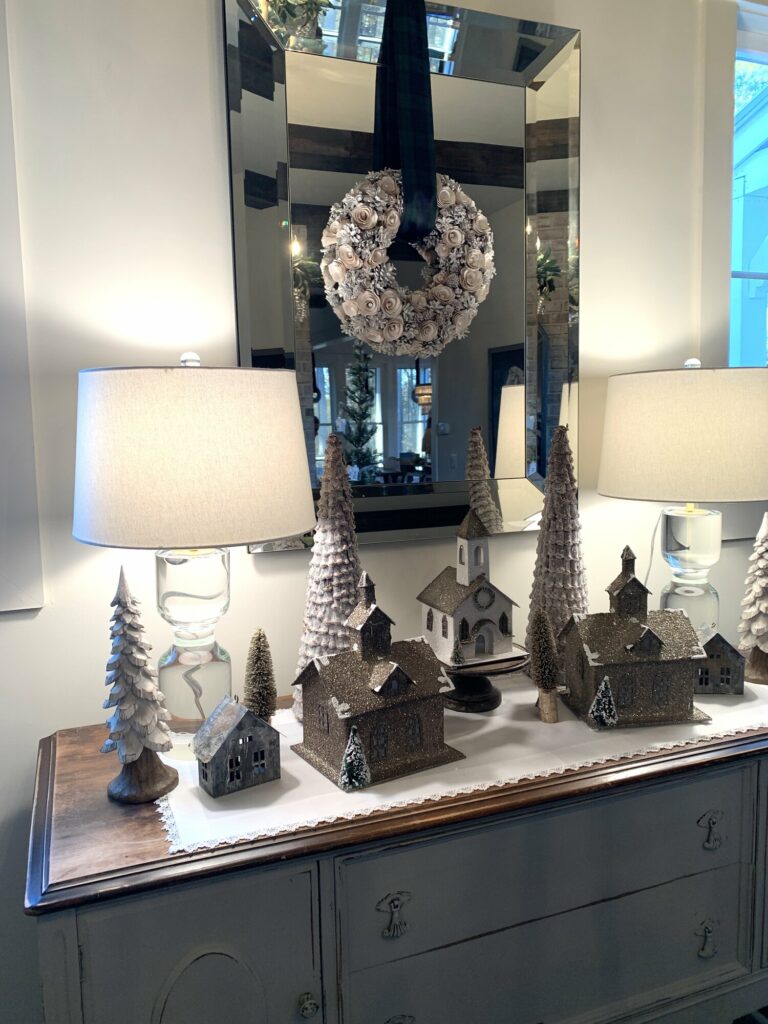 Don't be afraid to SWAP out some of your normal decor to create a Christmas display! It's better to take a few things out than to try and squeeze in Christmas pieces here and there.
We swapped out some dishes and serving pieces on the top shelf of this hutch to create a sweet collection of trees. It helped tie together the entire dining room winter village scene!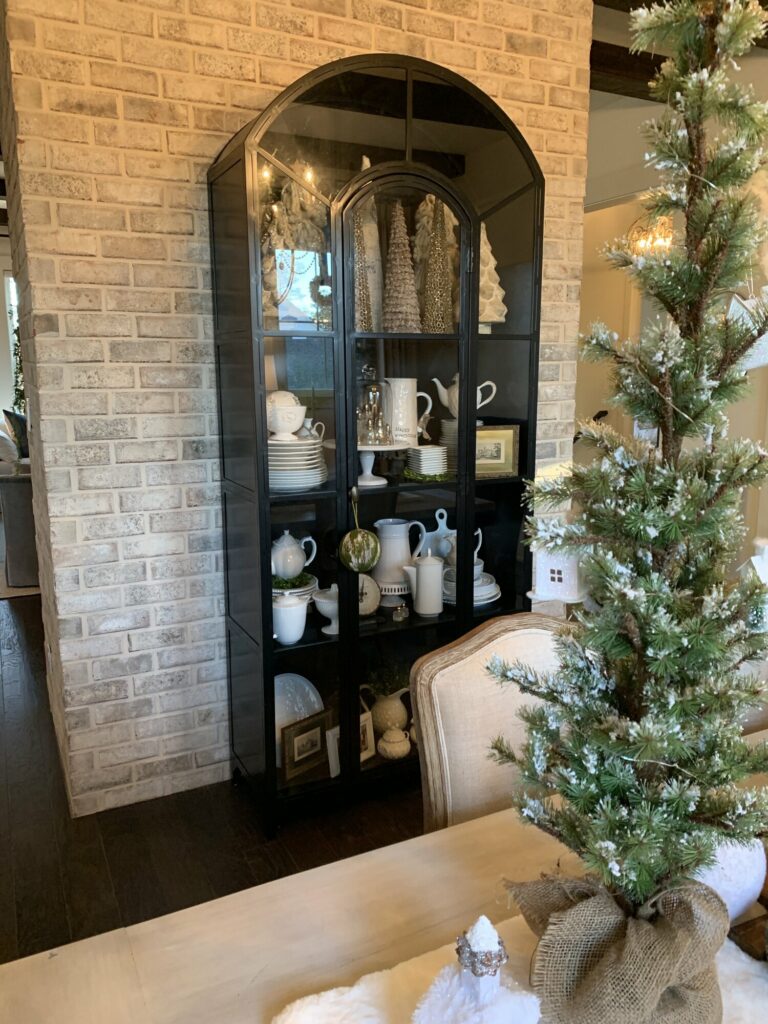 Now, on to the mantle! We started with our client's GORGEOUS family photo, that happened to be Christmas themed, as a centerpiece and layered in stockings and greenery. Zoom in on those gorgeous reindeer statues!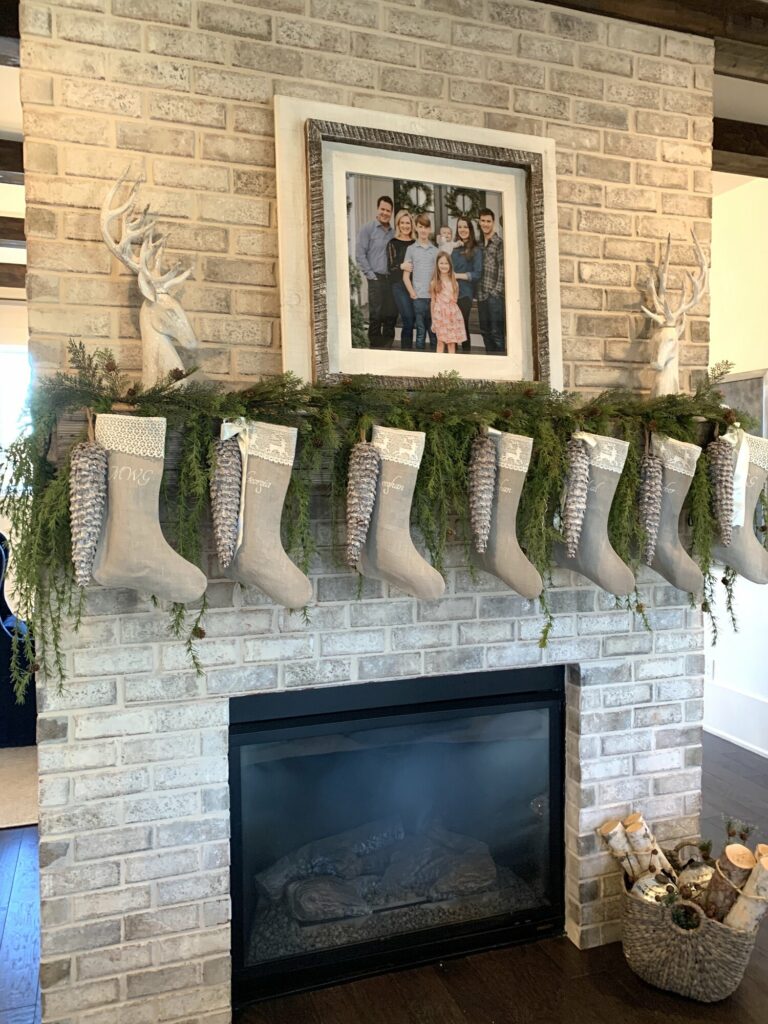 Sometimes, SIMPLE is best. We hung white paint-dipped pine cone wreaths from green velvet ribbon on each window for a striking, yet simple, look in the living room.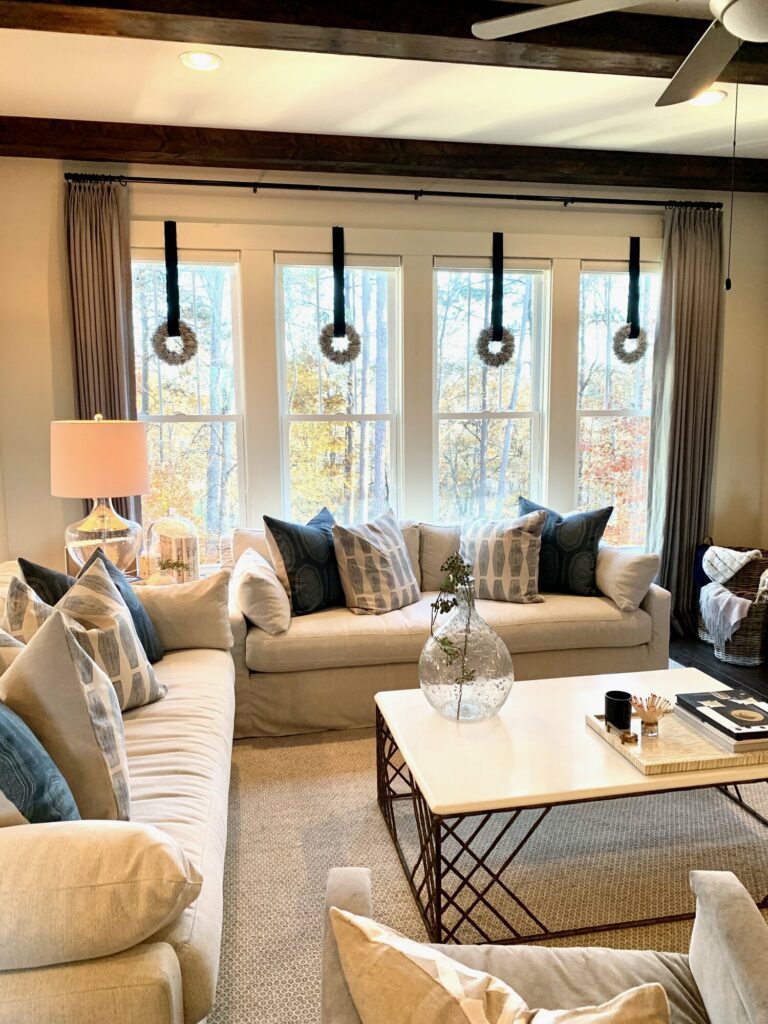 We continued the wreaths hung from ribbon idea in to the kitchen dining area since the rooms are side by side to make more of a statement. Then, using a glass cloche and tray that was already the everyday centerpiece for the kitchen table, we created a scene for a family of white reindeer. Tying a small knot of the green velvet ribbon around the top of the cloche was the FINAL touch!
Our final task was THE TREE! We wrapped the tree in the same green velvet ribbon we had used throughout the house and tied a simple bow at the top. Using the same ribbon in all the Christmas scenarios really pulled everything together.
In our opinion, a full tree is a FESTIVE tree! We layered ornaments of all different textures and sizes with blueberry springs and pinecones and handpicked some of the families favorite ornaments as well!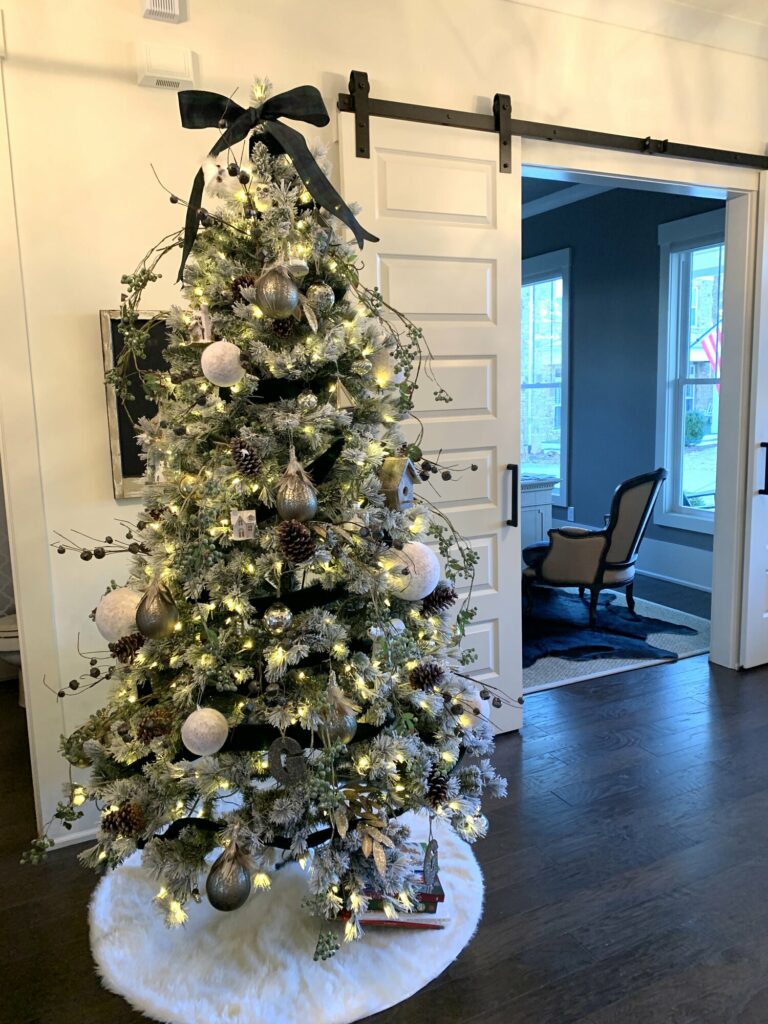 There have been quite a few articles floating around the past few years touting the science that a decorated home for the holidays increases happiness levels…true or not true? We say TRUE! We hope YOU are enjoying this holiday season!
{Get social with us on Instagram @hartandlockdesign or on Pinterest}